'He was the ultimate star'
Theodore Bhaskaran, noted historian of Tamil cinema, won the Swarna Kamal from the President of India in 1997, for his book, Eye Of The Serpent.
Incidentally, Sivaji Ganesan received his Dadasaheb Phalke Award at the same function.
He shares some memories of Sivaji Ganesan:
History will describe Sivaji Ganesan as an icon of the popular culture of Tamil Nadu.
When I say Tamil Nadu, it includes the entire Tamil diaspora -- since cinema in Tamil Nadu is very much part of the popular culture. No other society in the world is as affected by the cinema culture as Tamil Nadu, I think.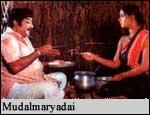 With Sivaji's death, one school of acting comes to an end.
Most actors in Tamil Nadu have been trained in the school of 'company drama' -- Sivaji Ganesan, M G Ramachandran, S S Rajendran, K R Ramaswamy and N S Krishnan. This is a continuation of the earlier company dramas.
Actors who came after Sivaji have also been influenced by this style, even though they were never a part of it. And the reason is they were only influenced by the style of acting followed by Sivaji Ganesan.
Sivaji Ganesan was the ultimate star, whom youngsters tried to mimic and emulate.
Tamil cinema is over 80 years old. Sivaji Ganesan came on the scene in its third decade. Parasakthi, his first film, was made in 1952. And instantly catapulted him to stardom.
Those days, Tamil cinema was dominated by Kalaignar Karunanidhi. It was also entering a new phase -- with had fewer songs and more dialogues. So when Sivaji entered the scene, more importance was given to dialogues and rhetoric.
He was very lucky to get a role in Parasakthi. It was a milestone in that it had such flowery dialogues that those became an entertainment component itself.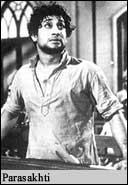 Sivaji's strength was that he could deliver strong words very powerfully and convincingly. People still admire the court scene in Parasakthi, the durbar scene in Manohara, the Socrates drama in Raja Rani and the argument with Nakkeeran in Thiruvilayadal. These scenes are still talked about because of his powerful dialogue delivery.
Sivaji's best and most memorable films are his early ones. I used to wonder why his performance was so subtle. Then I realised -- it was because he hadn't yet become a star. Those films were made when he was totally under the control of the filmmakers.
You see, unless the director controls his actor and knows exactly what he wants, the star dominates the film. So Sivaji's acting was very subdued and subtle. He could get under the skin of the character he was portraying.
One such portrayal is in Rangoon Radha (a novel by Annadurai), in which the hero -- played by Sivaji Ganesan -- is an evil man. To get rid of his wife, he tortures her so that he can marry her younger sister.
Sivaji underplayed this wily character so well -- it's a treat to watch him in the film. He's so convincing.
Another film is Antha Naal, directed by veena maestro S Balachander, in which Sivaji plays a spy reporting to the Japanese. When his wife comes to know of it, she kills him.

Bhim Singh's Raja Rani is another memorable film (story and dialogues by Karunanidhi). Kalaignar recalled this film in his tribute to the great thespian after his death.
In Vietnam Veedu, Sivaji's performance as a man who loses his identity after retirement was hauntingly outstanding.
When Sivaji became a great star, HE started dominating films. In the process, his acting became very stylised -- even in social films -- especially at the height of his stardom. And that was his one drawback.
True, his acting -- with elaborate gestures -- were well suited to mythologicals, as they are fantasies. Take his role as Shiva in Thiruvilayadal. You could say he was responsible for the revival of mythologicals in Tamil.
In Sampoorna Ramayanam, he played Bharata while N T Rama Rao was Rama.
He began acting more realistically when his stardom started waning. Bharatiraja's Mudalmaryadai, which had a strong script and plot, for example. That's not a Sivaji film. Bharatiraja fitted Sivaji into the character of an old man who fell for a young girl.
It was the filmmaker's film. And thanks to the filmmaker, Sivaji underplayed the character. You have to admit, there is great beauty in understatement.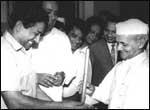 Another example of underplaying a role was Bharatan's Thevar Magan, in which Sivaji was absolutely delightful to watch.
Sivaji was very convincing and realistic in his earlier films -- in the Fifties and the early Sixties. But he became a stylised and flamboyant actor during his stardom days. In the Nineties, he went back to the subtle, controlled style of acting.
Sivaji Ganesan is the greatest actor Tamil cinema has produced because he has quite a few great and varied performances to his credit. He played the anti-hero roles very early in his career.
In terms of his influence on Tamil cinema, he is the greatest. His range as an actor was amazing. Though only a few directors like S Balachander and Bharatiraja could exploit his range.
I think his name should figure in the history of Indian cinema. He was not given his due place at the national level. He never got the best actor award. Even the Dadasaheb Phalke award came very late to him.
As told to Shobha Warrier
Also Read:
A Tribute to the Legend Sivaji Ganesan