The new law to regulate the microfinance sector may make similar state legislation null and void.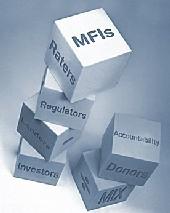 The Bill - to centrally regulate microfinance institutions (MFIs) - may also cap the rates charged by these institutions or limit margins, that is, the difference between the rate charged from the borrower and the lender's cost of funds.

The Microfinance Bill is being drafted on the lines of the report of the Reserve Bank of India's (RBI's) Malegam committee.

The committee was set up after a number of borrowers in Andhra Pradesh, the largest market for MFIs, committed suicide due to coercive recovery practices adopted by these lenders.

This forced the state to pass a law to regulate MFIs. MFIs say their recovery rate in the state has fallen steeply in the wake of this borrower-friendly law.

A finance ministry official, who did not wish to be identified, said under the proposed law, there would be a cap on rates. MFIs would also not be allowed to take deposits from the public, he said.

The Malegam committee has recommended a margin cap of 10 per cent for MFIs with a loan portfolio of Rs 100 crore (Rs 1 billion) and above and 12 per cent for smaller MFIs. It has also suggested a 24 per cent cap on rates charged from individuals.

The Centre plans to draft the Bill in such a way that microfinance is seen as an activity enabling the poor to use credit to improve their lives.

If microfinance was defined as just a money lending activity, if would come in the Constitution's State List, said the official.

Finance Minister Pranab Mukherjee, in his Budget speech, had given a strong indication that the government would come up with a law for MFIs.

"The committee set up by RBI to look into issues related to the microfinance sector in India has submitted its report. The government is considering putting in place an appropriate framework to protect the interests of small borrowers," Mukherjee had told Parliament.

The finance ministry was forced to review plan to introduce such a legislation after the Malegam Committee said the said Bill would cater only to a small number, as organisations not regulated by RBI accounted for only eight per cent of the microfinance loan portfolio.

The finance ministry official said such microfinance institutions would be treated as non-deposit taking non-banking finance companies and the proposed Bill would be in sync with RBI regulations for NBFCs.

RBI Governor D Subbrao has said it will take a view on the Malegam Committee report by April-end.