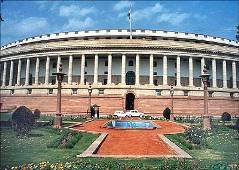 The present stock of wheat and rice with the central pool is far more than the needed buffer stock.

The wheat procurement season has ended in most big foodgrain-growing states with an all-time high purchase of almost 28 million tonnes (mt), creating a problem of storing such huge stocks.

Procurement of wheat and rice put grain stocks in the central pool to a record 65.59 mt by the middle of June.

In the central pool, the food grain stock is estimated at 64 mt, while the total storage capacity available with the Food Corporation of India and state agencies is around 63 mt.

The present stock with the central pool is far more than the buffer stock and strategic reserve requirement.

The previous record stocks were 64.83 mt in 2002.

Official figures show that as on July 7, the country had 26.8 mt of rice and 37.14 mt of wheat in the central pool.

This was almost 85 per cent more than the requirement under buffer and strategic norms for wheat and 149 per cent more than the required quantity of rice.

During the start of the wheat procurement season in April, government officials had estimated that the procurement in 2011 would be 26.27 mt, up almost 17 per cent more than last year.

However, by the time procurement ended in June, FCI and its state affiliates had purchased almost 28
mt of wheat.
This was 6.5 per cent more than the target that officials had estimated when the annual procurement season started.
Such massive procurement created an acute storage scarcity, further aggravated by the slow response of states to lift the grains allocated to them under special ad hoc allocations.
The reason for such high procurement of wheat and rice is primarily record output.
The procurement of wheat in 2011 is estimated at 84.27 mt, up 4.29 per cent from last year, while in case of rice it is expected to be 5.63 per cent more at 94.11 mt.
This, along with a record minimum support price, have led to record procurement of wheat and rice this year.
In case of wheat, the government had announced a bonus of Rs 50 per quintal over and above the minimum support price of Rs 1,120 per quintal, bringing the effective price for farmers to Rs 1,170 per quintal.
For rice, the minimum support price of common grade rice was Rs 1,080 per quintal and that for grade 'A' varieties, it was Rs 1,110 every quintal.
One big phenomenon in this year's wheat procurement was the emergence of Madhya Pradesh among the top states contributing grains to the central pool, after Punjab and Haryana.