Iran is keen to explore the possibility of exporting electricity to energy-hungry India after the much-touted tri-nation gas pipeline project with New Delhi slid into limbo.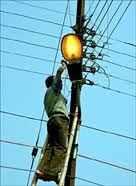 Iran's energy minister Majid Namjou said Iran might well export electricity to India instead of gas.

Namjou said that India is one of the frontrunners in the field of generating renewable energies and Iran will prepare the ground for the development of new energies in the country in cooperation with India.

The minister said India has expressed readiness to import electricity from Iran, pointing out that holding related negotiations with India has been placed on the ministry's agenda.

He noted that a new power plant is under construction on Iran's border with Pakistan.

"Currently, one of the new methods for energy exports is to transform natural gas into electricity," he said, adding that power
transmission is less costly compared to natural gas exports.
Earlier in January, in a meeting held between Indian Ambassador to Tehran D P Srivastava and head of Industrial Development and Renovation Organisation (IDRO) Majid Hedayat, ways of expanding cooperation between Iran and India in the fields of industries, oil, gas and green fuels were discussed.
Hedyat said IDRO has focused on development of technologies and modern industries with the cooperation of private sector.
Referring to collaboration between Iran and India in generating electricity from solar, wind and hydroelectric power plants, Namjou noted that some 17,000 megawatts of renewable energy power plants have been set up in India and this can be used as a model for development of clean energies in Iran.
Some 100 megawatts of wind and solar power plants have been established in the country so far, adding construction of a 2.5 megawatts power plant in Energy Research Center is in final stages, Iran Daily quoted him as saying.