Home > News > The Stamp of Corruption > Report

SIT arrests top Mumbai cop Pradeep Sawant

Vijay Singh in Mumbai | January 07, 2004 19:20 IST
Last Updated: January 08, 2004 11:36 IST



The Special Investigating Team on Wednesday evening arrested Deputy Commissioner of Police Pradeep Sawant in connection with the fake stamp paper racket. Sawant is a highly decorated officer of the Mumbai police.

In the evening, the Anti-corruption Bureau launched a raid on his residence in Matunga, central Mumbai.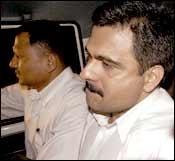 The arrest followed an over five-hour interrogation at the SIT's Worli office. He will be produced before a special court on Thursday for remand.
Sawant is accused of going soft on Abdul Karim Telgi when the latter was in custody of the Mumbai police between November 2002 to January 2003 for 85 days. At that time, he was a Deputy Commissioner of Police in the Crime Branch of the Mumbai police.
During the same period, policemen allegedly took Telgi to Goa and Hyderabad on pleasure trips and in connection with his business using funds of the police department.
These funds could only be used with the sanction of an officer of the rank of Deputy Commissioner of Police. Sawant was then officiating in that capacity although he denied sanctioning the funds, SIT sources said.
At the time in question, Sawant was under the direct command of Joint Commissioner of Police (Crime) Sridhar Vagal who was working under Commissioner of Police R S Sharma, both of who are under arrest.
The police officers who had taken Telgi to Goa and Hyderabad by air have also been arrested.
With inputs from PTI
The Telgi Scam: The Complete Coverage